Hi, everybody!
I have my book review for Carry On by Rainbow Rowell for you today. I hope you enjoy!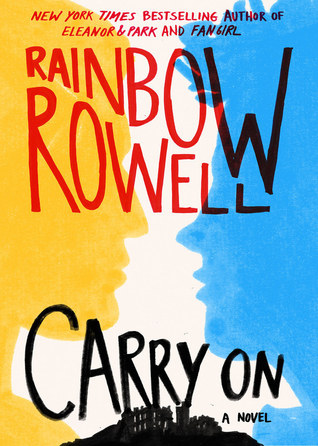 Titel: Carry On
Author: Rainbow Rowell
Publishing Date: October 6th 2015
Pages: 522
Rating: 5/5
---
SYNOPSIS (Goodreads)
Simon Snow is the worst chosen one who's ever been chosen.
That's what his roommate, Baz, says. And Baz might be evil and a vampire and a complete git, but he's probably right.
Half the time, Simon can't even make his wand work, and the other half, he sets something on fire. His mentor's avoiding him, his girlfriend broke up with him, and there's a magic-eating monster running around wearing Simon's face. Baz would be having a field day with all this, if he were here—it's their last year at the Watford School of Magicks, and Simon's infuriating nemesis didn't even bother to show up.
Carry On is a ghost story, a love story, a mystery and a melodrama. It has just as much kissing and talking as you'd expect from a Rainbow Rowell story—but far, far more monsters.
WRITING

As always Rainbow Rowell's writingstyle is just fabulous. This book was very different from her other books since this is a fantasy book which is not something Rainbow Rowell has written before. But just like her contemporaries it has great romance and it is a great story. We explore every character and they're all very different and unique and just great.

CHARACTERS

Simon is the Chosen One to safe the World of Mages. The only problem: he sucks at being a magician. He's a likeable character in my opinion but quite naiv. He cares a lot about his friends and he's quite obsessed with his roommate, Baz, who's always plotting to kill Simon. Or so Simon thinks.

Baz is a vampire and hopelessly in love with Simon. But since they're actually enemies there's no way he's going to tell anyone. Baz is extremely sassy and dark. His sarcastic comments always make me laugh.

Agatha is a rather difficult character. She was Simon's girlfriend until she broke up with him. I thought she was quite selfish in how she handled the situation she was in. I can understand her but she really didn't handle it correctly.

And they there's Penny. Oh, I loved her! (Just like I absolutely love Simon and Baz, btw!) She's always there to help Simon and she's very intelligent. She reminded me of Hermione from the Harry Potter series.

SETTING

In the beginning I kept comparing the world with the one of Harry Potter (Like I compared Penny to Hermione.) but after a while I stopped doing that. Rainbow Rowell really made this world her own. I didn't expect a lot of the worldbuilding and stuff like that but it turned out to be really great! Rainbow Rowell can do anything, right.

PLOT

I loved the story so much. The development of relationships was so well done (you know which relationship I'm talking about) and, ugh, it was all just so well done. I loved the end. It all happened how I wanted it to happen and it was nicely wrapped up. It was mostly based on romance and I didn't expect anything different from Rainbow Rowell but she did surprise me with the exciting things that were going on.

OVERALL

I loved, loved, loved this book. I can't say it enough. I loved it like I love every other book Rainbow Rowell writes. The characters were great and I loved them all (although I'm not sure about Agatha.) And, man, that romance! *-*
---
Did you read this book? What did you think of it? Comment below or send a link to your review if you have one. I'd love to read it!
Love
Katniss Potter Booklover xxx