Hi, everybody!
It's day 9 of Bookmas created by Hailey aka HailsHeartsNYC over at YouTube. If you don't know what Bookmas is click here to see her Announcement Video.
If you missed my previous posts:
---
Today's topic is…
On the ninth day of bookmas my true love gave to me nine kickass ladies.
I think this will be a very interesting topic to talk about. 😀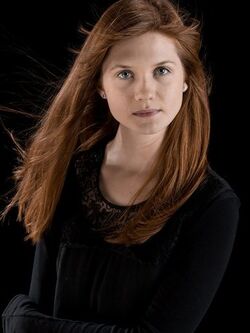 My first kickass female character has to be one from the Harry Potter series. But I'm not going to pick Hermione. Don't get me wrong, I think she is very badass and stuff  but I think Ginny Weasley is slightly more kickass. She grew up with six (if I didn't miscount) older brothers, is very popular, dares to do things, is a true member of DA and we can't forget all the things she did in the seventh book with Neville and other students to fight the Carrows.When Harry told her at the end of book six they shouldn't see each other anymore, Ginny doesn't cry or make a drama of it. She respects and understands Harry's choice.
My second and third picks are from The Hunger Games trilogy. First, there's Katniss Everdeen. Although she is quite concervative in the beginning, she does grows to be a real leader of a rebelion. She didn't always know what she was doing, she was very insecure about her actions but she did make a huge difference.
Then, there's her sister Prim. A little, scared girl in the beginning but then grows to be strong, independent and a great support for Katniss. Even at such a young age she wants to help and do something usefull.
The fourth one is also a pretty obvious one. Tris Prior from the Divergent trilogy is one of the bravest characters I've ever read about. Yes, she's also very reckless but she did so much for the people. She did what she thought was right and nobody could change her mind about those things.
The fifth kickass lady I chose is Isabelle Lightwood from The Mortal Instruments series. I love her so, so much! She is so confident and if she has her whip no one is safe. At the end of the series she does dare to let someone look inside her and we discover that she isn't as flawless as she seems to be and that makes me love her even more.
Annabeth Chase from the Percy Jackson series is my sixth pick. I haven't read the stand-off series but I certainly will. Already from a young age she is very confident (the fact that she is the daughter of a godess has something to do with that, of course) and she's also so badass. She gives sassy remarks and wants to be independent from everybody else. After a while she does realize you do need people around you who will always be there for you and that's what makes her maybe a little more vulnerable but a lot more likable.
My seventh one really intrigued me. Emma Bloom from the Miss Peregrine's Peculiar Children trilogy cares a lot about her friends and doesn't think about anything else untill they are safe. Because of all these years she has lived she has a certain wisdom and knows a lot more about others than most people do. She acts quickly but never without thinking about it. I really love that actually she is the strong one in the relationship she has with Jacob.
Number eight is Feyre from A Court of Thorns and Roses by Sarah J. Maas. She is a skilled huntress and even though in the middle of the book she is a little bit helpless and lost, she really is very brave. She's a skilled heroine with brains and man! I can't wait till A Court of Mist and Fury!
And then finally the last one: Blue Sargent from The Raven  Cycle by Magie Stiefvater. She has this prediction hanging above her head but she does dare to start relationships with persons. Some might say it's dumb but I think it's brave.
What did I read?
Yesterday, after I posted Bookmas Day 8, I read one chapter in Harry Potter and the Deathly Hallows. Today, though, I had such a lazy day! I barely did anything beside watching tv and wasting my time on the Internet. I did read some pages but that's all. It's still pretty early now so I hope to read some more.
---
That's it for today! Tell me which characters you find kickass ladies in the comments below and I will see you tomorrow! 🙂
Love
Katniss Potter Booklover xxx